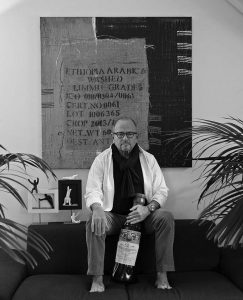 Born in Zurich in 1951.
My parents – the father an art-painter and the mother a talented amateur painter – almost gave me the affinity to art into my cradle. My reference to the art evolved from the early "home school" education over the drawing and painting lessons at the Rudolf Steiner school in Zürich up to the later experimental stages with a wide range of techniques and materials.
From 1977 till 2015 I worked as a full-time employee at the Swiss Civil Aviation (Swissair and SWISS international air lines). The fascination for the art however has never released me during that time. On many trips and layovers abroad during the first years of my flying activity, I primarily focused on photography. Yet, museums and galleries around the world captivated me also during that time.
Mid of the 90′, I started – in addition to the photography – to deal more with painting and designing figurative objects again. Since then I've constantly developed myself with the help of relevant literature, as well as further education courses in acrylic, oil and mixed media.
Since the withdrawal from my active professional life end of February 2015, I am working as a freelance painter in Lufingen in the vicinity of Zurich.
Looking for a certain style in my work is in vain. In addition to previous experiences and techniques already applied, it tempts me to go new ways and to experiment with different styles, materials and elements.
"Who always does what he already can, stays forever what he already is".